Home Exteriors Direct
3 Main St
Lebanon, NJ 08833
908-368-8718
License #: 13VH06450000
Privacy Policy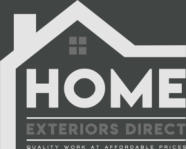 At Home Exteriors Direct, we have extensive
experience with roofing projects of all types
large or small, renovations or additions.
Whether it's shingle roofing or metal roofing,
if you're in the market for a new roof you
came to the right place.
We offer first class roof installation, roof
repair or roof replacement using quality
materials from manufactures such as GAF.



Whether it's replacing old siding, repairing
current siding or installing new siding,
Home Exteriors Direct can do it. We offer
an array of siding options.
New siding, along with a well maintained
roof, can increase your home's value and
dramatically improve your home's
curb appeal.
We offer quality workmanship and different
levels of warranty
for all our siding jobs.
Whatever type of renovation
you need
Whatever type of renovation you need,
The Team at

H

ome

E

xteriors Direct makes
the whole process easier and more
enjoyable, as the specialist renovation
building company.
Even a simple renovation or make over can
make it more attractive to prospective
buyers, and significantly increase your
selling price.
When in need of a roofing contractor, or
you are considering another exterior e
improvement project, contact Home
Exteriors Direct today.
Call us today to schedule a
free consultation
908-368-8718
Copyright @ Home Exteriors Direct LLC 2020. All Rights Reserved
New Jersey Best
Roofing Contractor
Let the experts at Home Exteriors Direct
help you design a new look for your home.
We specialize in
patios,decks,windows,doors,interior and
exterior painting, kitchens and much more.
We Install Quality Replacement Windows
and Sliding Doors.
We are able to provide Custom Fit,
Maintenance Free and Easy to Operate
Windows to meet all your
replacement needs.
Our roofing crews provide
elite craftsmanship built on
over 25 years of providing
roofing services in
New Jersey.